Salary and time spent on the route
The time spend on a route distributing commercials and newspapers goes along with the salary that our deliverers receive. You always get payed by the hour. Therefore it is the route you get assigned, that decides what the salary will be each month.
We have different types of routes; cityroutes, bicycleroutes and countryroutes. What type of route you will be assigned to will be determined after talking to a distribution leader.  If you want to have a look at which routes we have available, you can find it here. On each of these routes a time estimate has been calculated that tells the deliverer how long they should expect to be working on a specific route and therefore also what the salary will be.
The time estimate is calculated by how long the route is and how many households it consists of. In addition to that we also pay attention to the fact that there in some periods are more commercials for example when we reach Christmas-time.
Salary for deliverers and weight of the commercials
When calculating a time estimate for a route, we expect that our deliverers as recommended only put in 40 kilos (for teens under 18) that consists of both newspapers and commercials in the trailer. Therefore if you have more than 40 kilos of commercials and newspapers for your route, we have added some extra time on the route for you to be able to get back home and pick up the rest of the commercials. This means that you will get payed more in busy periods.
Focus on the work
In our calculation we expect that all you do is delivering the newspapers and the commercials. Therefore we haven't estimated any time for phone calls, chats with neighbours or distractions caused by checking social media along the route. These are factors that can easily make the route take longer than calculated.
When hired you will be able to log on and see your own profile here at blivomdeler.nu and therefore be able to find all the information for the route that you have been assigned to including how many kilos that there are for your route each week.
Besides the salary that you get as a deliverer you also have the possibility to make good use of our many discount packages that we have with various companies.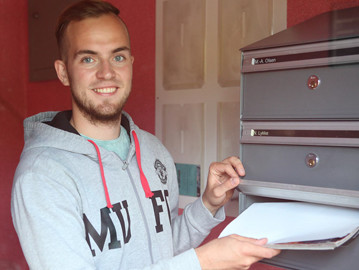 Read more about the job
If you want to learn a little more about the job, you can find it here.
Se mere
"I love meeting people when I deliver newspapers. Many of them are waiting for me and are happy to see me."
Edvinas, 26 years old. Deliverer at FK.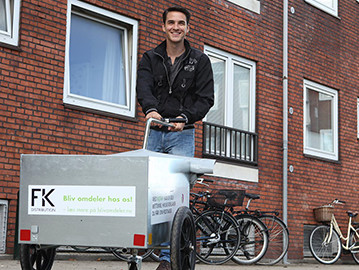 Available routes
Have a look and see if we have an available route near you.
Se mere